Squeeze Please pouches are easy to use!  They can be filled with all kinds of healthy, homemade purées and re-used over and over again.  Fill, zip, use and wash.  It's that simple.  And best of all, they can be taken anywhere:  parks, play-dates, cafes, cars even the subway.  Because they're freezable they're very handy to pop a few into the freezer at grandma and grandpas house, ready to go any time.  Your homemade nutritious goodness, any time, anywhere.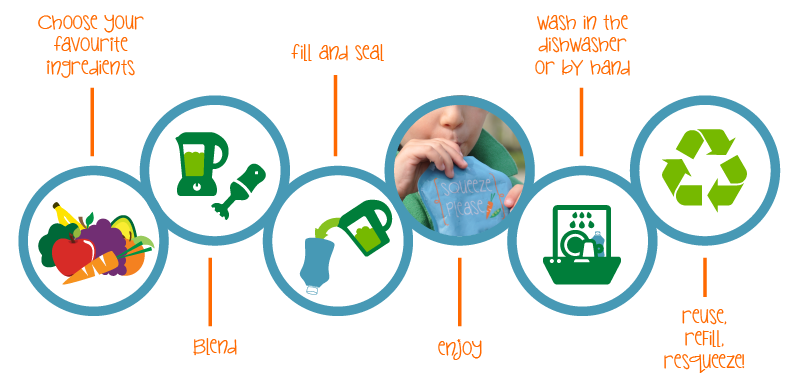 Simply blend up your favourite puree or smoothie.  Pour into the pouch and zip it shut (make sure the cap is on and screwed tightly before you start to pour!). The sturdy double zipper ensures that your home made creations stay safely in the pouch.  Once your little one is done, Squeeze Please pouches can be rolled up for less mess.  No jars no spoons.  Clean and simple.  When you get back home, wash them by hand with a bottle brush, or pop them into the dishwasher.  That's it – your Squeeze Please is ready to be used again and again.
For recipe inspiration, check out our recipes page.
Still have questions about how you use Squeeze Please reusable food pouches? Then check out our Frequently Asked Questions for more information, or contact us to ask for help!